Atlantic Northeast District Church of The Brethren

Women's Spring Fellowship
Join us for a wonderful day of fellowship!  Click here for more.
Understanding Today's Youth Culture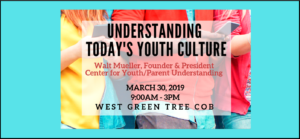 Please join us for a terrific seminar on today's youth given by Walt Mueller, internationally recognized speaker and author on contemporary youth culture!  CEUs available.  Click here for more….
55 Plus Spring Banquet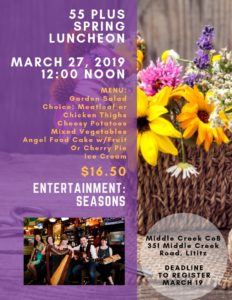 Join us for the afternoon!  Great food-Great music- Great fellowship!  See your church representative or register online.
Stewardship University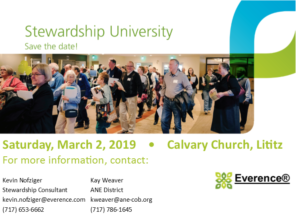 Come to this ecumenical event sponsored by Everence ®!  Over 30 workshops for you to learn to lead a life of stewardship.
For more information and to Register online, click here.  Before registering,  scroll down to learn more about the sessions.  There are a few special discounts to keep in mind – Early bird registration, group discounts, First time attendee discount.  Email Kay Weaver at kweaver@ane-cob.org with questions.  ANE Pastors may obtain CEU Credits as well.
Contact Kay for brochures and share this video with your congregation:  See what's in store for 2019 Everence Stewardship University
Global Leadership Summit- $129 Group Rate Admission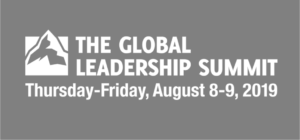 Join us for a wonderful opportunity for growth!  This two day event will assist you in your leadership inside and outside your church!  CEUs available for ANE Ministers.  Limited to the first 25 to register! Click here to register and for more information….
Through our general fund we are able to support Atlantic Northeast District congregational life by
providing resources, calling and training pastoral leadership, guiding pastoral placement, and
coordinating cooperative ventures in stewardship, witness, church development,
education, and youth, young adult, and senior adult ministries.