Quick Links:

Elizabethtown College – Leffler Chapel and Performance Center
1 Alpha Drive, Elizabethtown, PA 17022
October 4-5, 2019
Pre-Conference Information
2019 Atlantic Northeast District Conference Moderator, Brian Berkey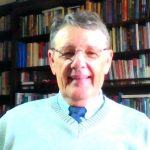 I am very interested in getting out to as many churches during the coming year as I can to get to know more of the ANE before the 2019 District Conference. I can be available for a pulpit fill or just to introduce myself to your congregation on a Sunday morning. If you are interested in a visit, please contact me at bdberkey@comcast.net or (443) 553-0356.

Theme:  Living the Legacy

Scripture Reference

Job 29: 2-3 How I long for the months gone by, for the days when God watched over me, when His lamps shone upon my head and by His light I walked through darkness!

Bible Verse and Description:
"If ever there was a person who could really lament about the "good old days", it has to be Job. In this passage of scripture, even in the midst of his anguish over what has befallen him, Job comes to the realization of what really was good about the good relationship with God. In the 21st century church, as we become absorbed with all of the issues, and all of the "stuff" of the day, perhaps we, like Job, need to consider our Brethren legacy and where we are in our relationship with God. To follow up on the 2018 District Conference theme, perhaps it is time to focus on those things in our heritage that are good and positive, the important things that we have in common and less on the "stuff" that may cause division. As Brethren we may not study the Old Testament perhaps so much but as we enter into a new year with many challenges before us, I would really encourage us to take a look at Job. There are lessons that can be learned there about dealing with our struggles that apply in our world today."
Registration Information – All attendees of Conference must register and are required to pay the registration fee.

Online registration begins May 1st
Delegates register by July 1st – $30, July 2nd-September 15th – $35, Day of conference – $40
Non Delegates register by September 15th – $30, Day of conference – $40
An updated list of Congregational Delegate Representation is available here .  Please be sure to verify the number of delegates that your congregation is permitted to send.

Childcare
District Choir

Brothers and Sisters from all over the District are invited to praise the Lord with their voices! A District Choir will be forming soon. Please consider this enjoyable opportunity!
Housing

Do you have the gift of hospitality?  Are you traveling a distance to attend District Conference? Once again this year, the Program and Arrangements Committee is working to coordinate accommodations for those traveling to conference.
If you are interested in hosting our Brothers and Sisters, please click here.
If you are in need of housing, please follow this link.
Address and Driving Directions

The 50th Annual District Conference will be held at Leffler Chapel and Performance Center on Elizabethtown College's campus. The address and driving directions can be found here.
District Conference Weekend Agenda
Please check back for additional updates!
Friday, October 4, 2019– OPEN TO EVERYONE– no registration required
Ministry Recognition Dinner 5:00 p.m.

The Atlantic Northeast District Ministry Commission welcomes you to join us for this year's Ministry Recognition Dinner, as we honor those who have been recently licensed, ordained or placed, served as an interim, are graduating from TRIM or ACTS, or have been in      ordained ministry for 50 years.
The menu for the evening is Tuscan Chicken, Roasted Potatoes, Vegetable Medley, Garden Salad and Assorted Desserts.  Limited seating available.  $20.00/person,

Worship Service – 7:00 p.m.

We will celebrate the 50th anniversary of the Atlantic Northeast District on Friday October 4, as we come together to worship. Please join us at 7:00 p.m. for an evening full of prayer, praise, music and memories!
The Atlantic Northeast is excited to welcome Don Fitzkee on Friday evening as he preaches to the congregation. Don is Brethren author, retired professional and Pastor.
Offering and item donations for Children's Disaster Services' Kit of Comfort (KOC).  Click here to find out more about what items your church can donate.
Expo & Networking with ANE Related Institutions  – 6:00 p.m.-9:00pm – Meet representatives face to face and learn more about these great opportunities for you and your congregation.

Bethany Seminary
Brethren Benefit Trust (BBT)
Brethren Disaster Ministries (BDM)
COBYS Family Services
Everence
Mission & Ministry Board
Susquehanna Valley Ministry Center (SVMC)
The Parish Resource Center
Saturday, October 5, 2019– Registration Required for all or any part of attendance during this time.
Agenda

Bible Study – 7:30 a.m.

Please join us Saturday morning for breakfast and a Bible lesson, led by Pastor Galen Hackman.

"Living Our Vision" – small group conversations
Insight Sessions

New Objects at the Young Center Cast Light on the Brethren" with Jeff Bach
This session will introduce attendees to the new Bowers Interpretive Gallery at the Young Center and give an update on some important new collections of rare books as well as research materials related to the Brethren mission in China. Come to find out what is new at the Young Center.
"50 Years of the ANE District" with the Historical Committee
"Proud of our Past, Focused on our Future" is the topic of the Insight Session led by the Historical Committee. After reviewing the forces that created the merger between the North Atlantic and Eastern Pennsylvania Districts in 1970, some highlights of District Events will be shared. As we enter our 50th year as the Atlantic Northeast District, we will look forward to the ways we can continue to do the work of Jesus together.
"Being a Pastor's spouse: Finding your purpose and identity along the way."  with Shelley Kontra & Bob Wintsch.  In this insight session, we will address the joys, challenges, and expectations of being the spouse of a pastor, how it impacts our family life and how to fully live into this Calling.

District Displays
Free Childcare
Catered breakfast and lunch
Spanish Interpreters

Tendremos traductores de español para ayudarlo a escuchar cada aspecto de la Conferencia de Distrito. ¡Por favor únete a nosotros!
2018 District Conference Information
If you have questions, or would like additional information, please contact the District Office.