Quick Links:
Minutes 2018
49th ANNUAL DISTRICT CONFERENCE
OCTOBER 5-6, 2018
Leffler Chapel and Performance Center at Elizabethtown College
1 Alpha Drive, Elizabethtown, PA  17022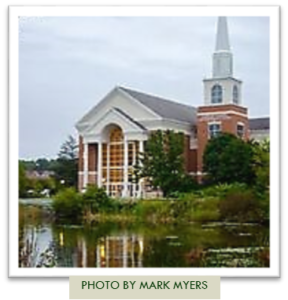 On the evening of October 5, 2018, the Atlantic Northeast District commenced the 49th District Conference with a Friday night worship service. Back by popular demand, an evening worship service was well attended by many ANE Brothers and Sisters singing God's praises. The inspiring evening was full of music from SonLight Praise Team, a District-wide Choir, and a youth solo guitarist, who all helped to set the mood for a weekend full of prayer and praise.
Moderator Misty Wintsch, fulfilled a lifelong dream to preach at District Conference. Her uplifting and powerful message encouraged everyone to pray for one another, listen to each other and respect all opinions that might not agree with a personal perspective. Misty reminded the conference to "Think about Good Things", this year's District Conference theme.
The evening consisted of a celebration of District diversity, a fellowship expo with displays from related and partner agencies, refreshments provided by Camp Swatara in celebration of 75 years, ACTS graduates were recognized, 50 year ministers were honored and an atmosphere of family and fellowship flourished.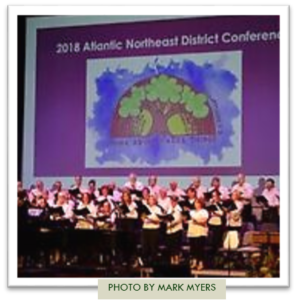 On Saturday, record breaking numbers of delegates and non-delegates turned their focus to the business portion of District Conference.   Before 7am, Leffler Chapel was full of passionate Christians seeking to do God's will. A team of volunteers were on hand to assist with parking, greeting and registration. Fellowship abounded in the breakfast room and an insightful Bible study was led by Pastor Brian Berkey.  Outreach was in action, as hundreds of supplies were collected for the children benefiting from COBYS Kids Closet. The collective group of volunteers from the host churches Jennersville, Mechanic Grove and Wilmington welcomed the ANE family as they arrived for the day.
At 8:15am, the conference began with lovely music, group prayer and a time to share. Soon afterwards the ANE District Commission Directors shared all of the good things that the District ministries have been doing over the past year with their presentation of ANE Today.
Afterwards, the Compelling Vision Team gave a report to the body. At the 2017 Annual Conference, the delegate body affirmed a report from the Leadership Team and the Council of District Executives.  That report concluded with the assertion "to stay on the journey together, it is also crucial that the church discern the compelling vision that this body of Christ is called to pursue." The Compelling Vision Working Group established a guiding statement: "Confessing Jesus Christ as Teacher, Redeemer, and Lord we desire to serve Him by proclaiming, professing, and walking in His way together bringing His peace to our broken world.  Join us in reclaiming a new passion for Christ and helping set a course for our future as the Church of the Brethren serving Him in our communities and in the world!"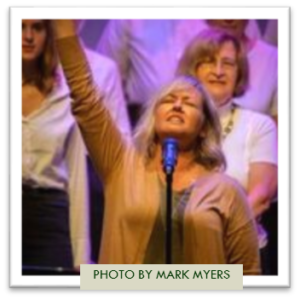 This statement of proclamation, intention, and invitation articulates the deep conviction of this group. Conference attendees were invited to participate in upcoming conversational meetings in November.
After the Compelling Vision report, a financial report was given by the ANE Treasurer, Ray Flagg. A 2019 District Ministry Investment Plan was presented and the delegates voted to approve the proposed budget for $615,651 and the Fair Share Recommendation.
Beginning each November, the Gifts Discernment Team works together to discern whom among our District would serve well in a leadership position. Throughout the year, many prayers are lifted up, and the team works diligently to find people that feel called to serve. The Atlantic Northeast District is blessed with many talented, dedicated and passionate Brothers and Sisters, always seeking to help and work for the Church of the Brethren. At 9:55am, the 2019 Slate was presented. 137 slates were affirmed out of the 189 returned. The 2019 Slate was positively approved.
The candidates that will serve you over the next 1-3 years include the following:
Moderator Elect:   Karen Hackett
Program & Arrangements Committee:  Venona Detrick (Lancaster South), Lisa Kreig (Lancaster North)
Gifts Discernment Team:  Paul Brubaker (Lancaster North), Jason Haldeman (Lancaster South), Nancy Elliot Carter (ANE East), Megan Lester (ANE West)
Standing Committee Member:  Donna Lefever-Hoover (ANE West)
Alternate Standing Committee:  Jeff Rill (Lancaster South)
District Board Vice-Chair:  Pam Reist (Lancaster South)
District Clerk:  Douglas Nyce (ANE West)
Church Development and Evangelism Commission:  Stephen Hess (ANE East), Tim Fleener (ANE West)
Ministry Commission:  Ann Bach (Lancaster South),
Nurture Commission:  James Hollen (ANE East), Sue Eikenberry (ANE West)
Stewardship Commission:  Ruby Bean (ANE East), Ronald Myer (Lancaster South)
Witness and Outreach Commission:  Dawn Weiss (ANE East), Dale Wolgemuth (Lancaster North)
Camp Swatara:  Clint Arndt, Rachel Swank, Dale Ziegler
COBYS Family Services:  Kay Kulp
Please pray for these individuals as they share their talents, and serve the ANE District with their time. If you are interested or know of anyone that would like to serve in this capacity, please contact the District Office for more information at 717-367-4730.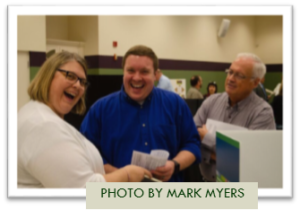 The lunch break provided an enjoyable time for food and fellowship. Three "Lunch and Learn" insight sessions were offered and were well attended. They included: "Meet Pete" the ANE's new District Executive, "Hugging Porcupines" a nurturing youth session with Dave Coryell, and "The Young Center" a lesson and tour with Jeff Bach.
After lunch, the tone of conference turned more serious as delegates and non-delegates alike gave their full attention to the significant policies being presented. The delegate body affirmed Veritas for congregational status.  An amendment was made to the Policy on Same Gender Marriage, however the final vote to adopt the policy was not affirmed. Additionally, the final vote on the Procedural Outline for Congregational Withdrawal was not affirmed by the delegate body.
At the end of the day, there was a beautiful consecration and transfer of leadership from Misty Wintsch to Brian Berkey. Next year, Brian will lead the ANE District Conference with a focus on Job 29:2-3, "Living the Legacy". The verse says "How I long for the months gone by, for the days when God watched over me, when his lamps shone upon my head and by his light I walked through darkness!" (NIV) Brian said, "If ever there was a person who could really lament about the "good old days", it has to be Job…. In the 21st century church, as we become absorbed with all of the
issues, all the "stuff" of the day, perhaps we, like Job, need to consider our Brethren legacy and where we are in our relationship with God.  To follow up on the 2018 District Conference theme, perhaps it is time to focus on those things in our heritage that are good and positive, the important things that we have in common and less on the "stuff" that may cause division."
The evaluations revealed that many at District Conference appreciated the Friday night worship service, singing Brethren hymns together, the Moderator's excellent leadership and the overall sense of respect for one another during these challenging and controversial times. 68 out of the 77 ANE congregations came together on a beautiful fall weekend to celebrate the Philippians 4:8 theme of all that is true, noble, right, pure, lovely, admirable, excellent and praiseworthy within the ANE District.
What a beautiful weekend the Lord made! On behalf of the ANE District Staff and Program & Arrangements Committee, we would like to thank everyone that attended. Thank you for your contribution and participation. We look forward to seeing you next year!
Please mark your calendars now for next year's 50th District Conference!
October 4-5, 2019
Leffler Chapel  *  Elizabethtown College
If you have questions, or would like additional information, please contact our District Conference Manager,
Christine Dugan at 717.367.4730 or cdugan@ane-cob.org.