Quick Links:
Minutes 2021
52nd ANNUAL DISTRICT CONFERENCE
OCTOBER 1-2, 2021
The year 2021 brought the first hybrid District Conference for ANE.  Participants could choose between participating in person or online.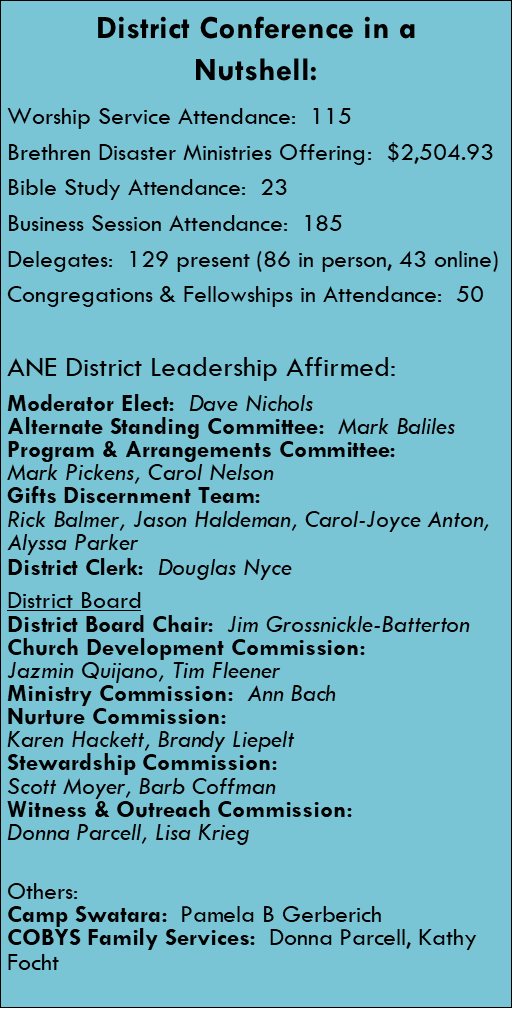 Conference weekend started on Thursday, September 30, with on-line Bible Study focused on Paul's Letter to the church at Colosse. The study focused specifically on the theme of Be Renewed in Christ through application of Colossians 3.
The weekend continued on Friday, October 1, with a hybrid Worship Service.  Brian Messler, Ephrata Church of the Brethren, challenged us through asking questions:  If we believe Jesus is enough; if we are maturing through becoming more like Christ every day; and if we remember scripture as easily we remember commercial jingles.  Specifically, if we are continually setting our hearts on the realities of heaven, taking off our old nature and putting on our new nature, as instructed in Colossians 3.  Inspirational music was led by the District Praise Band made from throughout the ANE.  The 2022 Annual Conference Moderator, David Sollenberger (Mt. Wilson) greeted participants, and offered encouragement to the ANE Family.  District Executive Pete Kontra recognized the many ministers in the ANE who have been involved in ministry activity. An offertory was collected to support Brethren Disaster Ministries.
On Saturday October 2, a hybrid morning and afternoon Business Session was held at Leffler Chapel.  The morning session included business items of a celebratory nature.  Ebenezer Project was approved to become a Fellowship and Un Nuevo Renacer was approved to become a Congregation.  Mount Zion Road and Brunswick's disorganizations were also approved, and a prayer was offered to all congregations and fellowships that have chosen to separate from the Church of the Brethren. The Way Forward Shepherding Team organized to guide ANE implementation of the Way Forward Process, provided an overview of the process, background as well as of what actions ANE congregations and members were being requested to take.
There was a time to renew and build new relationships over lunch followed by the opportunity to participate in one of two insight sessions.  "Cultivating a Culture of Call and Why it Matters" insight session was led by Joe Dietrik on the importance of calling out ministers.  The other insight session continued the conversation on the Way Forward Process.  There were many challenging questions from the floor.  Due to time constraints, not all questions were able to be addressed and had to be taken away by the Way Forward Shepherding Team to process together.  The conversation and questions demonstrated the need for continued dialogue and time for discernment by congregations and individuals.
The afternoon session included approval of the 2022 ANE Ministry Investment Plan, commonly called a budget, and the 2022 Fair Share giving amount for congregations of $55 per member.  The 2022 Slate of those called into leadership positions within ANE was approved.   Representatives from several of the agencies, organizations and commissions, beyond those presenting in person, were present at District Conference and interacted with the participants throughout the day.  2021 outgoing Moderator Scott Moyer and the 2022 Moderator John Hostetter closed the business session with prayer and brief remarks.
Please mark your calendars now for next year's 53rd District Conference!
October 7-8, 2022
If you have questions, or would like additional information, please contact the District Office.