EXECUTIVE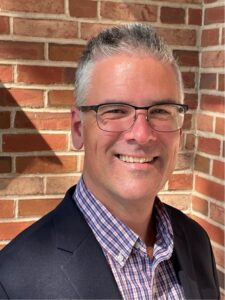 Pete Kontra
District Executive
As the District's CEO, Pete is responsible for ministry operations, district staff supervision, denominational connections, institutional relations, and vision statement implementation.Much of Pete's time is related to the work of the Ministry Commission — collaborating with congregations in the pastoral placement process and congregational consultation. He is an active part of the Council of District Executives and in Church of the Brethren leadership development.
More About Pete
Pete attended Penn State University as well as Bethany Theological Seminary. His first pastoral role was with Oakland CoB (Southern Ohio) and he continued on at Spring Creek (ANE). After 6 years at Spring Creek, he was led back to Oakland as a lead pastor until he was called to Hempfield (ANE). Pete and his wife, Shelly, along with their 2 children, reside in
Lancaster, PA.
See also: Ministry & Placement, Available Positions
 DIRECTORS
Don Mitchell 
Director of Church Development
"Wow! How exciting it is for me to relate to and coordinate the work of the Commission on Church Development, overseeing, developing, and promoting the CCD&E's church planting philosophy and strategy. Being a part of casting a District-wide vision for evangelism, church growth, and congregational health and vitality is thrilling. I accept the Acts 1:8 challenge to commit to fulfill Jesus' last spoken words to bring the gospel to Jerusalem, Judea, Samaria, and the ends of the earth. Jesus challenged the first church to be witnesses-personal participants in the world-wide mission of God. Will you join me in this mission?"
More About Don
Don V. Mitchell is a native of Chicago, Illinois and graduated from Southern Illinois University, Carbondale, IL where he met his wife Belita D. Mitchell, former Moderator of the Church of the Brethren Annual Conference. After living in Chicago the couple relocated to Southern California where they resided for over 31 years. Married for over four decades the Mitchell's are the parents of four adult children (one deceased) and four grandchildren. The couple came to Pennsylvania at the end of 2003 when Belita accepted the call to serve as the Senior Pastor of Harrisburg First Church of the Brethren. Don has served on the ANE Witness Commission, Turf Committee, Chair of the Church Planting Mission Commission in the Pacific Southwest District and attended New Church Development training events and church planting workshops sponsored by Bethany Theological Seminary and the General Board.
Don currently serves on the New Church Development Advisory Committee of the Church of the Brethren and is Chair of Brethren Community Ministries. An accomplished musician Don has traveled across the denomination on many Urban Peace Tours sponsored by the former Church of the Brethren Office of Witness.
See also: Church Development
Mary Etta Reinhart
Director of Witness and Outreach
Contact Mary Etta Reinhart
Mary Etta is an ordained minister in the Atlantic Northeast District. She is a long-standing member of the Mechanic Grove Church of the Brethren.  Mary Etta is a graduate of Manchester University and spent much of her work career employed by the Bank of Lancaster County / PNC Bank.  She served the bank and Quarryville community in the customer service department for 27 years.  Her skills in finance and customer relations serve her well in this role.  In the local church life, Mary Etta has served as deacon, teacher, organist, moderator, as well as many other elected leadership roles.  She has served as an Interim Pastor at Shippensburg Church of the Brethren, Swatara Hill Church of the Brethren, Paxton Church of the Brethren and Florin Church of the Brethren.
See also: Witness and Outreach
Kay Weaver
Director of Stewardship
With a keen interest in stewardship and financial planning, Kay brought both her business/stewardship experience and her Anabaptist faith to the District as Director of Stewardship in 2003. Previously, she had owned her father's insurance business following his death. During her years in the insurance business, Kay furthered her education in business management, estate planning, and security investments. She also served on the District's Planned Giving Committee in the early 1990's.
More About Kay
In 1997, as an elected member and eventually chair of the ANE District Stewardship Commission, she continued to put her faith into action by fulfilling District duties which included the annual planning of the District? Ministry Investment Plan and overseeing maintenance of the property owned by ANE in Brooklyn, NY. As Director of Stewardship, these responsibilities have expanded to include overseeing the maintenance of all properties owned by the District and providing Stewardship education for ANE congregations.
In 2015, Kay completed the ACTS program and became ordained in the Atlantic Northeast District .  As an ordained minister, Kay assists with Pastoral placements and credentialling in addition to Stewardship responsibilities .  Kay uses music as a public ministry and a personal respite. She has shared her vocal, instrumental, and directorial talents with her home congregation, Lampeter Church of the Brethren, since its start in 1978.
Kay currently lives 8 miles north of the farm where she grew up in Southern Lancaster County.  Her Mennonite and Church of the Brethren experiences, in addition to her parents' teachings, have given Kay a firm foundation from which to faithfully represent the District.
See also: Stewardship
STAFF
Krista Dickson
Office Administrator
Krista joined District Staff in 2012.  She attends Hanoverdale Church of the Brethren. Previously, Krista served as a missionary with Youth With A Mission (YWAM) in Juarez, Mexico , where she served administratively with both the local children's home and training schools, and ministered cross-culturally. She later moved to Tyler, Texas, to continue to serve with YWAM. Krista lives in Elizabethtown with her husband, Dan and son, Blake.
Kelly Bernstein
Communications Manager & District Conference Coordinator
Kelly joined District Staff in 2016.  She is a graduate of Messiah College with a degree in Human Resource Management. She brings more than 30 years of office, managerial and business experience. Her previous experiences include: office work at a wellness center and a Christian School, food service, the hospitality and attractions industry at Hershey's Chocolate World,  the co-owner of a small business, Human Resource Manager for a state-wide association, and a HR Specialist for a food processing plant.  Kelly and her husband, Rich, attend LCBC Harrisburg, and reside in Harrisburg.